Bamboo is adaptable
In general bamboo is a resilient plant and there's a variety of species for you to choose from.
In Australia we are blessed with a climate and can grow bamboo species that may not thrive where winter temperatures go below freezing.
Running Bamboo usually originates in cold climates, whereas Clumping Bamboo is often more tropical and less suited to cold
Which bamboo thrives in cold weather?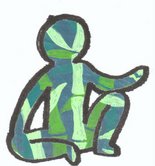 All of the Running Bamboo species on our list will grow in Canberra. They love it!
They even love Melbourne
Sydney can grow anything. Except for some of the sasa's.
The smaller growing Sasa species which originate in very cold areas, can look untidy in Summer.
Some Clumping Bamboo does well in the cold. See each species' page for its minimum winter temperature. You can always ask Mr Bamboo about species not appearing on this website.
Here's some Clumping Bamboo species that seem to grow well in the colder Canberra region:
Alphonse Karr
Fernleaf Stripestem
Slender Weavers
Blue Bamboo…
Bamboo by the sea (salt spray)
Within 50 metres of the shore receiving direct wind. Strong, salt laden winds will damage bamboo foliage.
After 2 or so years the bamboo will be acclimatised. The plant will have built up foliage providing more protection to the whole plant. A temporary, shadecloth sceen, between the sea and the bamboo will help it become established in relatively calm conditions.
Bamboo by the harbor or bay is not greatly affected by salt winds.
Mr Bamboo maintains bamboo right on Sydney Harbour and Pittwater. Melbourne's Port Phillip Bay would be no different.
Control your climate, if you can
Micro-climates can be much warmer than surrounding cold areas.
Free heat sources are available, should you wish for example, to bamboo on the downtown balcony, where it's warm in winter, much warmer than out in the suburbs.
A west facing masonry wall will radiate heat throughout the night; Under trees, foliage traps warmth and stops frost; Courtyards obtain night heat from surrounding walls; Live next to a steel furnace.