Bamboo needs a minimum of trimming to maintain your preferred shape.
When hedging, bamboo is trimmed back once a year. Once cut off a culm wont grow any higher.
Bamboo should suit you. If it leans out too far, prune off the untidy bits. Or mow the bamboo with hedge trimmers, for a 'hard edge'. We use a cheap petrol hedge trimmer for stems up to 8 – 10mm, that's a bit less than 1/2″.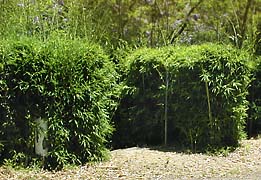 Before
Not very tidy. Some shoots actually leaning out!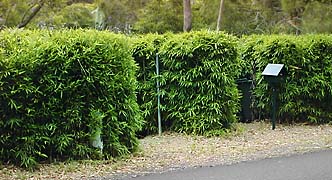 After, neato.
Earliest time to trim Clumping Bamboo to height is early spring
By winter growth will stop. New shoots that grew late in autumn hold out until spring warmth comes before sprouting leaves. It's best not to trim these bare stems until the culm sheaths fall away, exposing the new culm beneath to some sunlight. In Australia (warm temperate), this will be well before spring. Trim too early, when the culm is still expanding and you can cause death of the culm!
Pruning screen to height
Late winter is a good time to trim to height, once cut the weight of foliage drops away the culm remaining will bounce back more upright. Once cut off a bamboo culm will not grow any taller.
Cut with secateurs just above a node.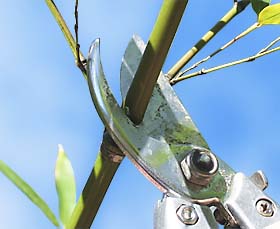 just above a node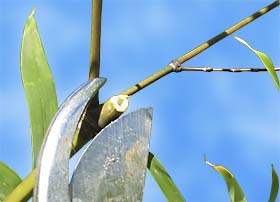 Pruned
When does bamboo shoot?
Each bamboo species depends on particular seasonal stimuli to send up new shoots. In general, Running Bamboo species shoot during spring to early summer – and Clumping species shoot mid to late summer and into autumn.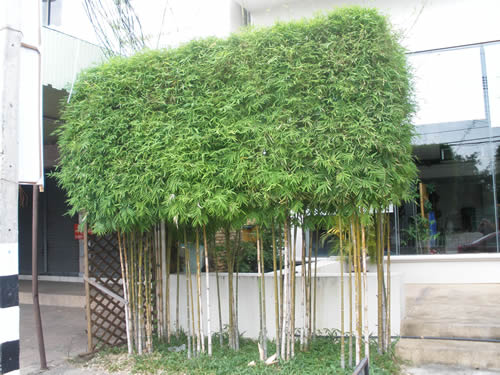 Side trimming to expose culm
This can be done at a very early, 'soft' stage of the culm development.
Once the culm has finished its vertical growth the side branches will push out at the nodes. At this time they can be soft and may just need a rub to detach them from the culm.
Once the branches have hardened up you'll need secateurs. Cut off close to the culm (stem), leaving no buds. This can be done at any time of year.
The more foliage is removed the less energy to the plant. Next years shoots will be smaller. Leave at least 1/3 of the branch complements.
A job for winter or spring. Use secateurs and perhaps a reciprocating saw.
New shoots emerge around the outside edges close to the previous years culm.
The middle of each plant is the original plant, the oldest section. As the clump becomes established, new culms will get progressively bigger.
The original individual plants will blend into "the hedge".
And from time to time say, every few years and when the hedge gets too dense you'll need to thin it out.
Take out old and unattractive culms. New shoots will come in summer time.
After working in the bamboo feed it and water in the food.
These form groves when planted in the ground. New shoots forming some distance from the mother culm. Newly forming culms are called daughters. They rely on the mother as well as surrounding culms for sustenance.
Should you wish to manage a grove for walking in then leave say, one metre minimum, between culms. Remove culms older than 3 – 4 years. These are less helpful to the grove and can be culled. Cut close to the ground so as not to be tripping over them. Cut the culm so a cup is left, pour some fertilizer in to assist rotting away and for feeding the local culms. Tool of choice is a reciprocating saw. A hand saw is fine.
Please consider Mr Bamboo maintenance service if you live in Sydney.