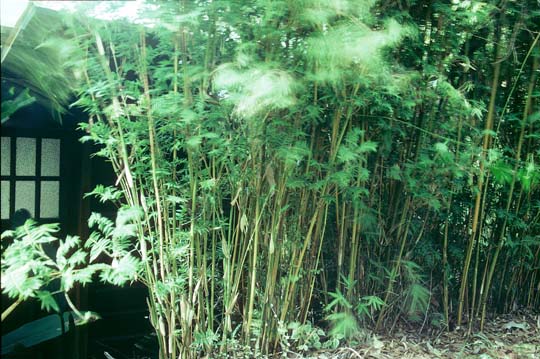 In the wind
Bambusa multiplex Stripestem Fernleaf
From Southern China or Japan or was it…
Characteristics
Grows 3-4 m high, culms (stems) 1.5 cm in diameter with an upright shape, Use it as a 4 m high screen where width of access is restricted. Quite different in form to its close relative "Fernleaf" which has a squat outline. Withstands cold down to -10 C.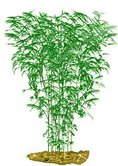 Use
Pot plant, bonsai, specimen plant in a garden, makes a good tight hedge which responds well to trimming. This is one of our current best solutions for a non-invasive, privacy screen. This effect is clearly demonstrated in a step by step scenario, where Stripestem Fernleaf created an urban retreat, single handedly.
Requirements
Semi shade or full sun. Suitable for well lit indoors.
Interest
With yellow striped, green culms and its delicate leaves you can have unusual privacy. New culms have pink stripes! The pinkness fades to the mature green and yellow markings, over 3 months or so.
How fast will it grow?
Of course, growth rate depends a lot on climate, food and water.
When small, Stripestem Fernleaf is not a fast grower, so starting off with a bigger plant will get you cover, much faster.
So what's it cost?