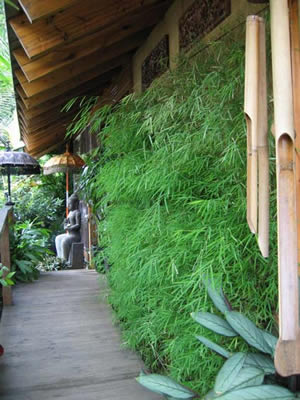 We have limited numbers of this species in small pots.   It has proved to be unreliable grown in small containers. However, for in-ground planting we can supply freshly dug stock of 300mm Blue Bamboo grown for this purpose and we still have some 400mm pots available. Just ask.
OR – We can offer you Nepalese Blue, (Himalayacalamus porcatus) as a substitute.
Drepanostachyum falcatum
Also called, Himalayan Weeping Bamboo
From: The Himalayas
Characteristics
Blue bamboo gets to about 3.5 m. (12′) high, with long, narrow leaves on arching culms. Current years culms are covered with a bluish bloom. Can take temperatures down to -29 °C!
Use
A non-invasive bamboo that makes a wonderful garden feature or privacy screen.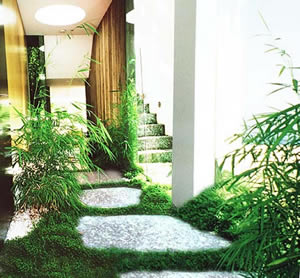 Used for basketery in Nepal.
Requirements
Blue Bamboo is a forest understory plant so don't plant it in constant full sun. It prefers light shade for most of the day. Trim top once a year in winter and sides as required.
Growing indoors or under cover, mist leaves with water once a week. Sometimes, say monthly add seaweed tonic.
Interest
Bamboo flowers rarely, around once in 100 years. After flowering it sets seed then dies.
Blue Bamboo flowered in 1998 / 89.
How fast will it grow?
Of course, growth rate depends a lot on climate, food and water. Blue shoots throughout summer months.
Small plants are slow to get going, so starting off with a bigger plant will get you there much faster.
So what's it cost?
| Size | Availability | New price as at September 2020 |
| --- | --- | --- |
| 250mm pot; up to 1m tall | available | $80 |
| 300mm pot; 1-2m tall | available | $175 |
| 400mm pot; 2m tall | available | $350 |