Atrium Planter suits large Running and Clumping Bamboo
Construction
Reinforced concrete.
Water-proofing layer applied to inside of planter.
Drainage with 4 mm stainless steel mesh, over drain out
Materials
50 mm – mulch layer
300 mm premium grade growing medium
Free draining, non-organic material (adjust depth as required)
100 mm coarse, washed river sand
Drainage cell to cover entire base of the planter
Fix a skirt of geotextile cloth around the lower 200 mm of inspection pipe with a cable tie. The ample (approx 300 mm overlay), skirt lays on the existing layer of geotextile. Held in place by sand.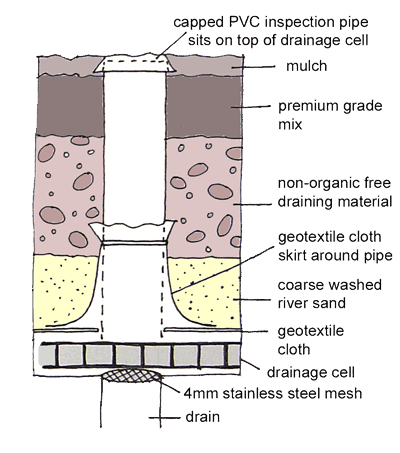 Drainage inspection pipe detail
150 mm PVC, capped, pipe, located over planter drainage outlet.
To prevent rhizome ingress, drainage outlet is covered with 4 mm, stainless steel mesh, fixed to concrete planter base.
PVC inspection pipe sits on top of the drainage cell.
set up as follows:-
Cut 145 mm diameter hole in drainage cell directly over drain outlet
Center the inspection pipe over the 145mm, hole in the drainage cell and secure it to the drainage cell with an angle bracket. Leave any sharp fixing outside the inspection pipe, so that the inspector won't scratch herself.
Cover top of inspection pipe until permanenant cap is fitted.
Backfill, while protecting pipe.
This is an inspection pipe only. It should not impede drainage from the planter.