Our Submission
Mr Bamboo protested the proposed prohibition of growing Phyllostachys genus of bamboo in NSW.
Our view prevailed!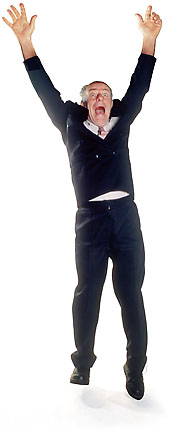 But there's work ahead – more on plantations. Talking hillsides, and not just one side.
Mr Bamboo made a submission in response to a government proposal that would prohibit growing any Phyllostachys at all in the state of New South Wales.
The following is our submission letter.
July 27 2006
The Secretary
Noxious Weeds Advisory Committee
Dear members of the Committee,
Allowing Phyllostachys Bamboo to be grown in NSW
Running Bamboo is a problem plant when grown in the ground. Not, when grown in containers.
Unlike other plants in the W4 Category, bamboo does not spread from seed or aerial cuttings.
Phyllostachys flowers once in every 100 years or so. Once it has flowered the plant dies. That is, in general terms all bamboo of the same species flowers and dies at the same time, worldwide.
Phyllostachys is only propagated by dividing the plant. Culms (stems), will not grow once removed from the main plant.
Mr Bamboo educates our clients about invasive bamboo. We use:
. Our website www.mrbamboo.com.au
. An easily noticed sticker is attached to all containers of Running Bamboo
. A tag is attached to all bamboo advising if it is a Running or a Clumping bamboo
. A brochure is also given to all customers that call into our Terrey Hills shopfront
. Every day we advise people about the most suitable bamboo to plant.
Phyllostachys is a relatively small part of our business. However, it is a useful genus for landscaping when used correctly. Moreover it is a genus with an established market and a bigger potential for many purposes that would be stymied should the genus be prohibited from sale.
Phyllostachys is a favoured genus for use in the landscaping industry.
At Mr Bamboo we often recommend Phyllostachys species as they are very beautiful and suit growing in containers. We recently supplied Moso (P. Pubescens) to the UNSW building L5 garden courtyard which houses the Law School; the new Norman Forster building in Sydney; Bankers Trust Tower has Black (Phyllostachys nigra) in the street level plaza; Westmead New Children's Hospital features Moso in the internal courtyard.
In Japan (many hotels and banks use large Moso plantings) the US (IBM building in New York – P. bambusoides) and in Europe (often used in Germany etc).
For production as a crop.
Currently in NSW, there are commercial plantings of bamboo for shoot and pole production. The finest bamboo shoots according to the market in Japan is Moso (P. pubescens). The best bamboo timber comes from P. bambusoides.
A very interesting species for sewage farm cropping is P. heteroclada Water Bamboo. In Asia, there are well-defined uses for each species.
Phyllostachys has a huge potential for production in NSW. It is a cut and come again crop. Simple good management can prevent it spreading. New shoots are grazed off by cattle and sheep. It is only when the plant is discarded in say, bushland that it can become an invasive pest.
There are more than thousand uses for bamboo.
To detail the potential for one species of Phyllostachys, Moso.
Here is a crop that can be grown successfully on mountainsides. Many years of cooperative, family farming in the area surrounding Anji in China's Zeijang province have seen mountains covered in Moso (P. pubescens). This is now the centre of new industries based on bamboo being processed with modern, specialised machinery to manufacture flooring, furniture etc.
Various species of Phyllostachys can be grown on salt affected soil. Sewage plants can turn waste material into useful timber crop that can absorb pollutants present in sewage. This timber can be used for numerous purposes.
Because of its speed of growth, high quality timber and economic potential we should be considering methods to increase propagation and encourage an industry centered on bamboo in NSW.
** With a carbon economy on the way, why ban the fastest growing plant?
Once established as a grove the annual production of new Phyllostachys shoots is a formidable, renewable resource.
Shoot production.
The paper written for the Rural Industries Research and Development Corporation (RIRDC), authored by Dr. Ray Collins and Mr. Steven Keilar and titled
The Australian Bamboo Shoot Industry. A supply chain approach*, details a growing new shoot industry.
Not documented by this 2005 study, a single bamboo shoot nursery in Kempsey sold $50,000 bamboo shoots in 2005.
Producers are currently selling shoots mainly from Clumping species. Phyllostachys grows in colder areas where Clumping species cannot. Plus the shooting season for both types is different, extending the period of production.
"We can live without meat, but without bamboo we must die." Confucius
Yours faithfully
Greg Braun
Mr Bamboo Pty Ltd
References:
* RIRDC
Publication No 05/022
Online references:
http://www.rirdc.gov.au
http://agsyst.wsu.edu/bambooarticle.htm
http://agsyst.wsu.edu/bamboo.htm
http://www.geocities.com/zhuzi.geo/page2.html
http://www.inbar.int/facts.htm
** DTQ Domestic Tradable Quotas
Tinsdale Report December 2005 (UK) to reduce greenhouse gas emissions.
Please note: Mr Bamboo does not sell Phyllostachys from our Terrey Hills shop. We do grow Phyllostachys species at our production nursery at Kempsey and supply direct to clients from there.